My dolly's page :) :
Ruthie was my first doll I got from my parents for my 7th birthday. I wanted Samantha, but right when I saw Ruthie, I knew she was the one! She is beautiful and very photogenic :)
About Ruthie:
Name: Ruthie Gwen Smithens (her last name is acutally mine, but not posting it for privacy!)
Age: 11
Birthday: February 12th
Nickname: R
Ruthie is defenitly the quiet, bookworm type. She always has her nose in a book, and she likes writing poetry, as well. Ruthie loves crafts and doing things by herself.
I got Mallory for my 8th birthday with birthday money. She is JLY #42, and I absolutely love her! She is SO adorable, photogenic and her hair is easy to style!
About Mallory:
Name: Mallory Lily (my last name)
Age: 10
Birthday: April 2nd
Nickname: Mal
Mallory is defenitly the "drama queen" "popular girl" type. She loves being in the spotlight, such as being on stage acting, singing, dancing. She also loves photography (and being in pictures). Mallory is defenitly a drama queen :)
Kit was my 3rd doll, I got her for Christmas 2011. She's so cute, and I LOVE her!
About Kit:
Real Name: Margaret
Nickname: Kit (everyone calls her that)
So, her name: Margaret (Kit) Luna Kittredge
Age: 9
Birthday: December 1st
Kit is a BIG tomboy. She loves sports, reading, writing and mysteries. You can often find her playing baseball at the park
I got Caroline in January 2013 with Christmas money :P She is absolutely adorable!
Name: Caroline Abbot
Age: 9
Birthday: October 22nd
Nickname: C
Caroline loves being outdoors. She also enjoys water sports such as surfing, swimming, things like that. She also likes skiing in the winter :)
I got Saige for my birthday 2013 ! She's SO CUTE!
Name: Saige Melody Copeland
Age: 12
Birthday: October 8th
Nickname: Saigey (as Mal calls her sometimes)
Saige is defenitly "the popular girl" type. She LOVES talking, painting, horses and cell-phones. :P
I got Molly with Birthday Money from April 2013 :) I got her in early May 2013, and she's ADORABLE! I LOVE HER! I re-named her Madison. I still call her Molly, but her real name is Madison :)
Name: Madison (Molly) Grace McIntire
Age: 12
Birthday: April 22nd
Nickname: Molls, Madi (for Madison) Mollers, Olly Molly
Molly is very, very, smart, and has an IQ of a genuis. She LOVES karate and swimming, and she hopes to someday be in the Olympics for Women's Swimming. :)
Name: Meatloaf
Belongs to: Ruthie
Meatloaf loves meat, of course, and playing with all the dolls! Meatloaf belongs to Ruthie.
NOTE: THESE ARE NOT MY DOLLS. THESE ARE THE DOLLS I WANT.
Cecile Rey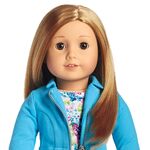 Just Like You #35
Cameron
Ivy-Rose Ling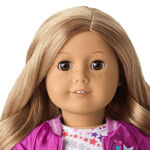 JLY 24, Peyton